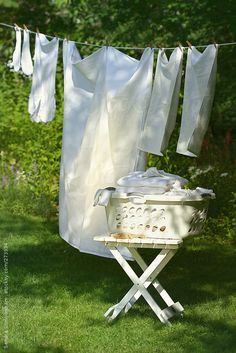 Linen Fabric-  Linen is a Natural Fibre derived from the Flax plant... it is grown in many Countries around the World and has had an upsurge in popularity in recent years.
Uses- Popluar for bedding and Manchester as well as Clothing as it is cool, casual; but chic!!  And it has that beautiful home-grown wholesomeness that modern Women love to love. 
Drapes beautifully and softens with age
Properties- has loose to tightly woven fibres depending on final use of fabric;  
Wearing- Good wearing properties, Cool and wicks away moisture as it dries quickly- 
Laundering Frequency - I recommend spot cleaning first.... a light detergent and cold water will remove most stains without the need to soak, eg tea and coffee will spot clean easily: Hot water sets stain so hot water is never recommended.
How to launder-  Hand-washing will extend the life of your Linen garments.  Use cold water and a soft soap, dip and squeeze with a light rub to stained areas.
It is wholesome to Hand-wash-  it used to be a bit old fashioned to hand-wash your clothes... (in the days before auto-washers) but I love to hand wash my clothes... it is part of an extended care and attention package of myself... ie the knowledge that my garments are not being stretched and wrapped around other clothes in the washer.
Its GOOD to enjoy the fragrance and clean-ness of the process and know that it is part of Looking Good and Feeling Fabulous.
After a light handwash, Squeeze excess water and place in a pillow case or wrap in a towel and then machine spin.  Smooth out seams between fingers and smooth fibres with hands and fold.  Line drying is fine but be sure not to  stretch out when placing on the line.  OR dry flat over towel on clothes airer.
To Iron or not to Iron.
If you like the crisp look of a tailored garment then ironing it is!!... Be careful not to over-dry and iron from the inside so that you don't polish the fibres.
I prefer a slightly rumpled look and therefore I purchased a small steamer to attend to wrinkles I don't want.... It is also possible to use a shot of steam from your iron or hang your dresses up in a the bathroom when showering to give the fibres a freshen up.   
Love your Linens xx Stacie